I love when we get a big batch of labels, and we get to look at some do's and don'ts from the same brewery. It's even cooler when it's an illustration of how one oversight can be a potential problem on otherwise great design. Today's case study: Boulder, CO's
Twisted Pine Brewing
.
They have a few new label approvals. Let's start with the good, the design for Sacred Spice Chai Porter:
It's from Twisted Pine's
Artisan series
, which uses local artists' work as inspiration. This piece, as the label says, is "Life is Beautiful" by
Millicent Kang
. Full size piece:
Gorgeous mixed media work, kind of like a hippie version of Klimt. The label design is mostly there to not take away from it, and the patterned brown is fine and neutral. I do wish they had chosen a different font for the "Artisan Ale." That font, Algerian, comes standard with MS Office and is pretty overused. In beer, it's used most prominently for
Middle Ages Brewing Company's Wailing Wench
. More importantly, it doesn't say "artisan" in any real way. It says "antiquity" or "overwrought" or maybe "this font was free and looked fancy," and while those are fine criteria on which to pick a font, you don't want it to
look
like that's why you chose it. Plus, there are just so many good free fonts that would more accurately represent the progressive, earthy contemporary art scene of Boulder. Still, the point of the label is the central art, and it is great.
Let's look at another in the series, Hoppy Girl, with art "Hush" by
Kate Medlin
:
The full mixed media piece looks like this: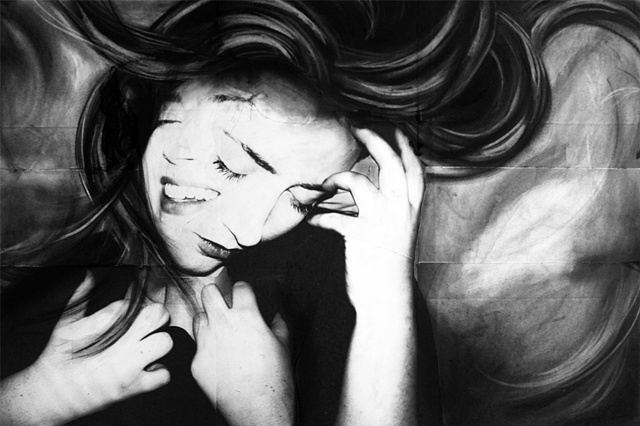 Gorgeous, and the black-and-white actually looks a bit better on the background. Like the Kang piece, it could benefit from a slightly larger frame, but we get a lot of it. Again, though, that yellow Algerian is a real mismatch with this great contemporary piece, even if it wasn't reminiscent of a totally different beer. "Hoppy Girl" is not a particularly artistic or interesting name, either.
And then we have times when the whole thing goes wrong:
Look, not everything has to be subtle, and I get that Boulder is pretty lefty and there is a lot of weed smoked there, but there comes a point where you're just not trying hard enough. The Hoppy Boy comes in pint-size cans (aka tallboys). And it's a "Tall Hoppy Can" with the letters
THC
capitalized. Get it? It's so clever! On a bed of
green
hop
buds
. Then they used the neon-groovy typeface that might be exactly the same as Cigar City's for the Jai Alai IPAs:
Now, I have no idea if Twisted Pine and Cigar City share any common distribution territory, but both are growing breweries with presumably some ambition, so being careful to distinguish the branding is potentially strategically important, even if one does not agree it's artistically important. But I do think that, when you're capable of doing the great things that Twisted Pine does in some labels, it's a shame to put out designs that can seem half-baked or derivative.
Having nothing to do with Twisted Pine, but worth posting, is another great recent design, from
Silver City Brewery
:
I just like the design. Simple bold colors, nice layering of images, tight circular frame. A portion of the proceeds benefit firefighters. Saint Florian is the patron saint of firefighters, in case you were wondering.
Three notes: